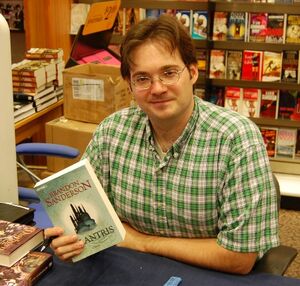 Brandon Sanderson is the author of The Reckoners series.
He is also well known in the adult fantasy genre and has written numerous fantasy books, including co-writing the Wheel of Time series by Robert Jordan. In 2010, Sanderson published The Way of Kings, the first of a ten book series called The Stormlight Archive.
Writing Background
Edit
Sanderson worked as an editor for the semi-professional magazine Leading Edge while attending school at Brigham Young University, where he now periodically teaches creative writing. In 2008 Sanderson started a podcast with authors Dan Wells and Howard Tayler called Writing Excuses, involving topics about creating and producing genre writing and webcomics.